Verification Procedure
Updated 1 months ago
Before gaining unlimited access to the Dialics system, all users are required to undergo a thorough verification process. This process consists of four essential steps that ensure the accuracy and validity of the user's information. In this article, we will guide you through each step of the verification process to help you get started with Dialics smoothly.
User Info
The first step of the verification process is to verify and, if necessary, modify the personal data you have entered. This includes your first name, last name, professional email, and phone number. It is important to ensure that the provided information is current and accurate. You are encouraged to review and update your personal data as needed.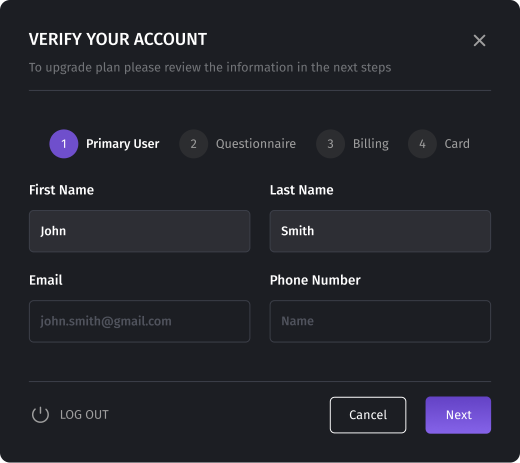 Questionnaire
After completing the primary user verification, you will need to fill out a questionnaire. This questionnaire is a prerequisite for accessing the Dialics system interface. The questionnaire consists of the following items:
What sort of campaigns will you be promoting with Dialics? This question helps us understand your specific needs and goals, allowing us to better assist you in utilizing the Dialics system effectively.
How did you find out about Dialics? Please provide us with information on how you discovered Dialics. Your feedback helps us improve our marketing strategies and reach more users like you.
Please provide us with an estimate of your monthly minute consumption. By providing this information, you help us understand your expected usage and ensure that our system can handle your requirements.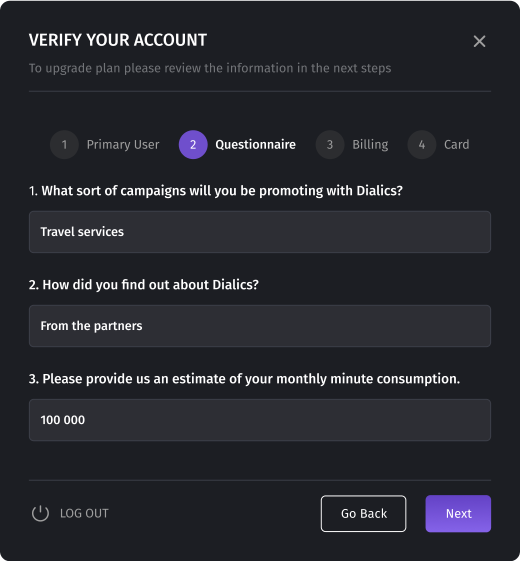 Billing
In the next step, you are required to provide your company information, which will be used for payment purposes. Additionally, you must upload your company registration documents. If you have already uploaded company data during the trial version, the verification process will automatically populate the billing profile with the provided information, and document uploading is not necessary. Ensuring accurate and up-to-date billing information is crucial for a seamless user experience and uninterrupted access to Dialics services.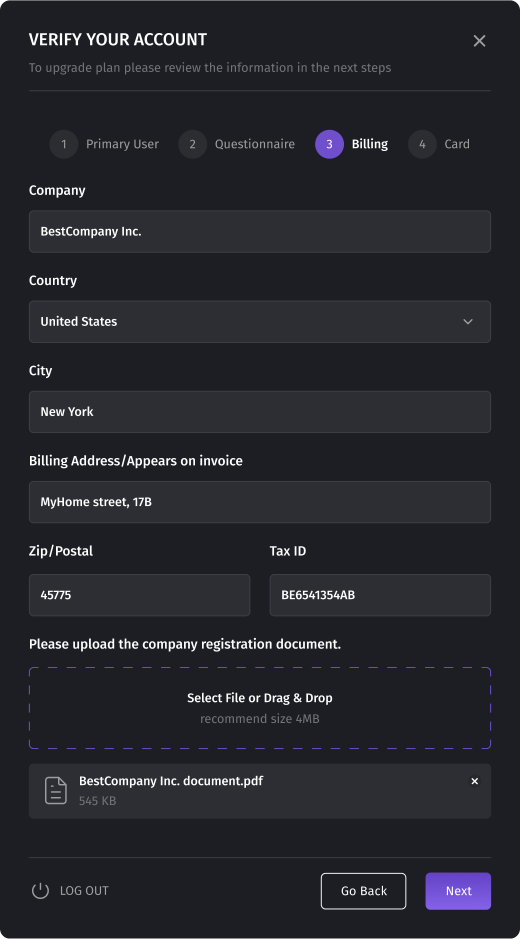 Card
The final step of the verification process involves entering your bank card data. Dialics utilizes the secure payment platform for all payment transactions, ensuring the utmost security and privacy of your financial information. It is important to note that Dialics does not keep any card data on its side; everything is securely stored on the payment platform. You must link a valid bank card to your account, as it is a requirement to start using the Dialics options. However, if you already provided your card information in the trial version, the verification process will skip this step. Once the card is added to the system, it will be stored in the Manage Cards section and marked as the default card. To utilize this card, you must also upload photos of your cards and a valid form of identification.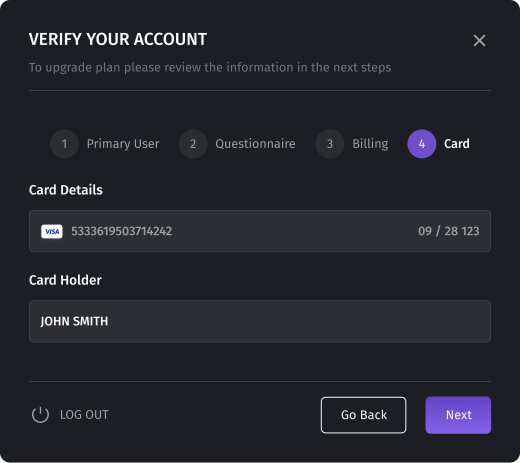 After successfully completing all four verification steps, your account will be fully verified. A window will appear, informing you that your data is being processed. By following these verification procedures, Dialics ensures a secure and reliable user experience while also providing our support team with the necessary information to cater to your specific needs.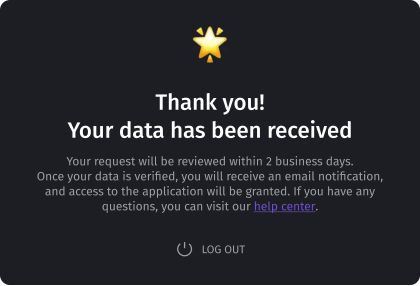 If you encounter any difficulties during the verification process, please don't hesitate to reach out to our customer support team for assistance. We are here to help you make the most out of your Dialics experience.
Was this article helpful?