Dialics Trial Version: Exploring the Full Potential of our Product
Updated 1 months ago
Welcome to Dialics! As a new user, you are automatically enrolled in our 7-day trial version, which provides you with the opportunity to fully explore and experience all the features and capabilities of our product. This article will guide you through the trial version, its benefits, limitations, and the seamless transition to the full version of Dialics.
Trial Version Features
During the trial period, you will have unrestricted access to the complete range of features and functionalities offered by Dialics. This includes the ability to make the most of our powerful communication tools, analytics, and insights. We encourage you to take advantage of this time to evaluate the effectiveness of our product and assess how well it aligns with your specific requirements.

1. Account Balance
To facilitate your trial, we credit $10 to your account balance upon registration. This credit allows you to experience the full potential of our product and make informed decisions about its suitability for your needs.
2. Phone Number Limitation
During the trial period, you can purchase and use one local phone number. This ensures that you have a representative example to evaluate Dialics' functionality and features. Please note that only one phone number can be active at any given time. If you wish to buy a new number, you must delete the existing one.
3. Flexibility in Trial Duration
We understand that every user may have different requirements and time constraints. Therefore, you have the option to use the trial version for less than the full 7 days. The header of your Dialics account will display the number of days remaining in your trial, along with access to the full version of the system. This ensures transparency and allows you to effectively manage your trial experience.

Please, be advised, that your Trial is limited to 7 days but you can switch to Full Access before it expires.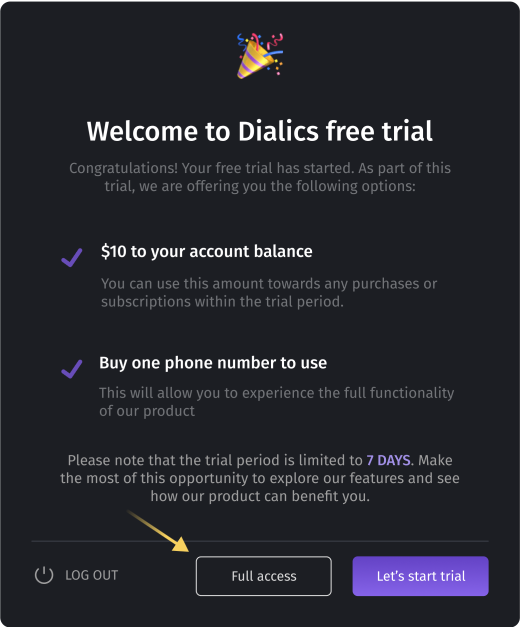 Transitioning to the Full Version
Once your trial period ends, a window will appear, temporarily restricting access to the system. At this stage, you have
two options:
Firstly, you can initiate the verification process to unlock full access to Dialics. Secondly, you can choose to log out of the system if you decide not to continue with Dialics. Please note that this window cannot be closed until you select one of these options.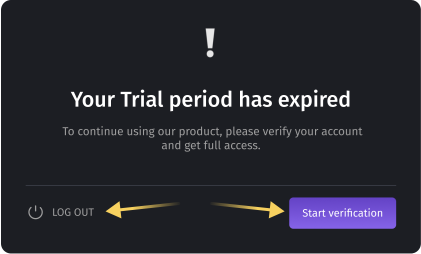 Once you decide to switch to the Full Access version, you will be routed to the Account Verification page. Please follow the guidance.
Paste the link to the Verification Procedure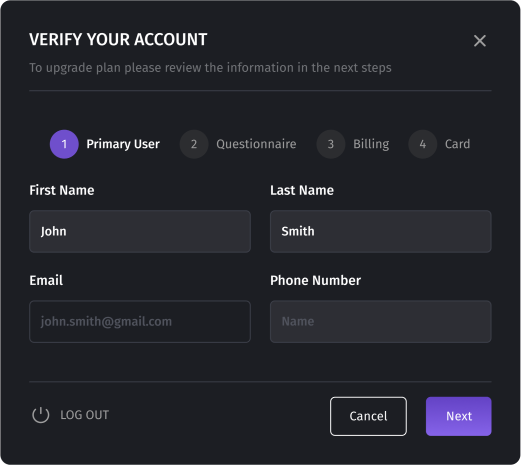 The Dialics trial version offers an excellent opportunity to explore our product's capabilities and determine its suitability for your business needs. With a $10 account balance and the ability to evaluate Dialics' features using a single phone number, you can make an informed decision about whether our product meets your requirements. We believe that our trial version, combined with the seamless transition to the full version, will lay the foundation for a successful partnership with Dialics.
Was this article helpful?