How to Manage Workspaces
Updated 1 months ago
As a new user, it's important to understand the concept of workspaces and how they function within our platform. Workspaces are like "sub-accounts" that help you efficiently manage multiple businesses or companies belonging to different verticals. In this guide, we'll walk you through the key aspects of Dialics workspaces to ensure a smooth onboarding experience.
Managing Business Verticals
Each workspace functions as an isolated container for a specific business vertical. Thus, you can see all related system elements and entities in one space. Account managers invite the team members and allow them to work within a particular workspace. As a result, a focused environment for effective business management is achieved. Once you register an account on the Dialics platform, you have one Workspace created by default. It is possible to create additional workspaces in your account if you need to separate your business verticals. Creating workspaces can only be done by the ****owner of the account*.*** Once created, the account owner automatically becomes the administrator/manager of the workspace. Click "Create workspace" to add a new workspace.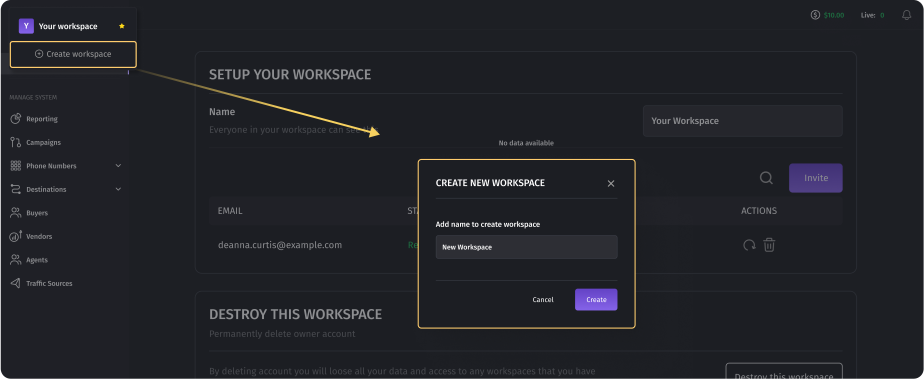 User Roles and Restrictions
The four types of users in a workspace are
Managers, Reporters, Vendors, and Buyers.
Managers have the highest level of access and can perform various actions within the workspace. Reporters, on the other hand, have limited rights and can only view the reporting page. To invite users to the workspace, the account owner clicks on "Invite User" in the workspace settings. Further, the appropriate role is assigned.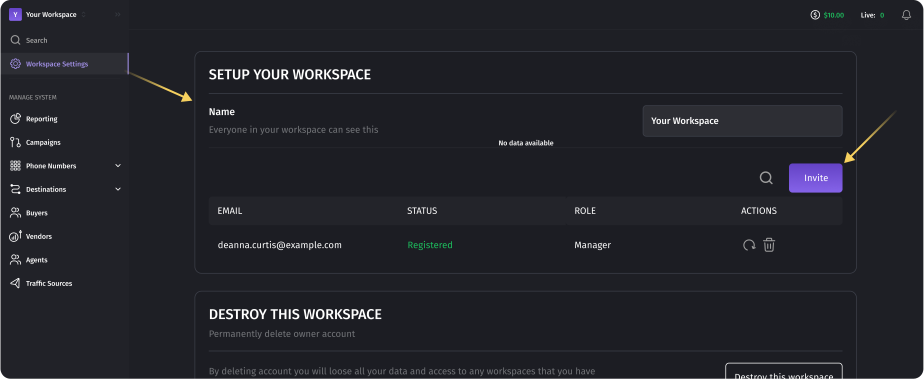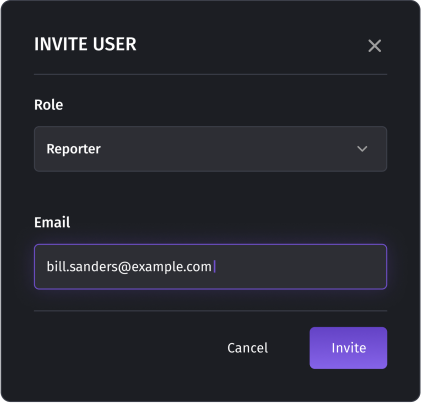 All restrictions on user
roles are kept
within a workspace
, which means that you cannot invite a user with the same email for different roles in the same workspace. Each user's email is unique within a workspace. However, you are free to invite the
same
user to perform any role across
different workspaces
.
For example
, a user can be a Buyer in one workspace, a Vendor in another, and a Manager in yet another. This allows for granular control over user access and permissions within each workspace. To manage users in a workspace, there is a section called "Users" that provides a list of invited users with their respective roles.
Only the creator of the workspace and users with manager rights have the ability to invite new users.

How many workspaces can I have?
Dialics provides the convenience of creating an
unlimited
number of workspaces. This ensures that you have the flexibility to manage multiple businesses or verticals without any constraints.
Deleting a Workspace
Deleting a workspace is a straightforward process, but it's important to note a few things.
Deleting the workspace leads to destroying all the data associated with this workspace and you will not be able to restore it. We recommend downloading all the call data before deleting the workspace.
Next, you cannot delete a workspace that has live calls and tracking numbers. Please be aware that to delete a workspace, you have to remove **all the associated tracking numbersfirst.

The "Destroy this workspace" button deletes the chosen workspace, including numbers, users, and campaigns.
Was this article helpful?