Disclaimer: An extensive choice of open-source and licensed tools is currently available on the market to make the working routine of a media buying agency simpler.
Media buying agencies have to cover a wide range of tasks connected with detecting the most productive traffic channels, calculating costs, planning budgets, as well as boosting conversions and customer satisfaction rates. In one of our blog posts, we have touched upon the performance metrics that can be useful for a media buyer. Now, let's focus on some handy tools that can facilitate routine tasks and increase the productivity of a media buyer, be it a sole entrepreneur or a large corporation.
What does a media buyer need?
To determine which advertisements perform best and draw in the largest share of the target audience, media buyers must compare the leading brands. To evaluate the quantity of clicks, activities, and other interactions with landing pages and websites, many metrics should be employed.
Besides, media buyers have to compile detailed customer profiles to know how to attract high-quality leads and retain existing clients. Various measurement tools to determine demographic and geographic characteristics are used for that, as well as services to identify the keywords to include them in advertising slogans.
It is not enough to create a design and launch an advertising campaign. The results of each ad should be closely analyzed with the help of tracking solutions. These resources give users a deeper comprehension of marketing tactics and strategies, which helps them perform better and hit long-term objectives more swiftly.
Let's dive into the tools that are valued and used by the experts on our team.
SimilarWeb
This one is the most convenient tool in the opinion of our marketing experts. It shows the number of unique visitors to the competitors' sites and the total monthly traffic. Further detailed analysis of the chosen websites reveals the data about their target market, countries they are aimed at, and advertising channels they use. The statistics are regularly updated. Although the developers of the project do not guarantee the complete accuracy of the information, it is still a very helpful tool for media buyers. The Pro edition offers users more detailed customer profiles and preference settings for the device distribution.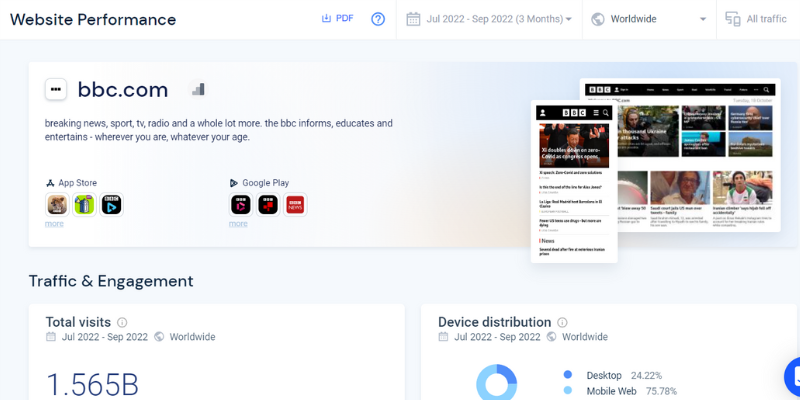 Meta Ad Library
It was previously known as the Facebook Ad Library. It is a useful resource for following the advertising campaigns of your rivals. It allows users to look for any ongoing ads on the customers' newsfeeds on Meta and Instagram. It is possible to search for a brand, an advertiser, or a company, as well as to monitor separate keywords and topics. Users can sift results using filters based on the target audience's peculiarities or their geographic region.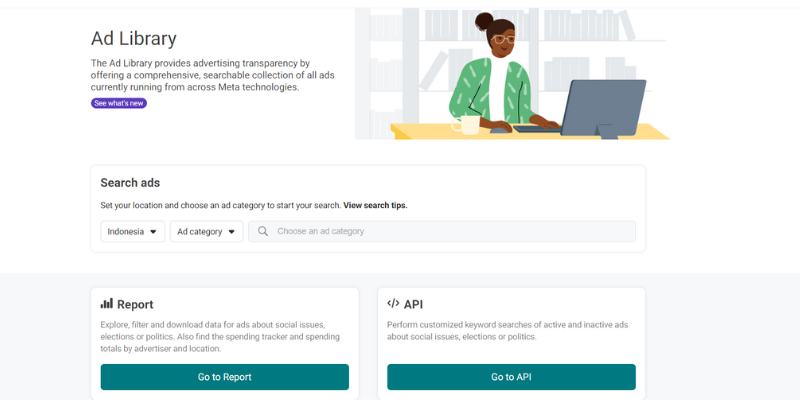 Facebook Pixel Helper
Pixels are short code snippets that are attached to your ads to track the customers' behavior and interaction trends. It is especially useful for creating lookalike audiences and monitoring conversion rates. Pixels show how many leads visited a website, which pages they explored, and which actions were taken. As for the Facebook Pixel Helper, it reflects the performance of the ads on Facebook and how users respond to them.
AdSpy
If you feel like a true spy, this tool will appeal to you. It will show you how engaging the ads of your competitors are and what makes them so. AdSpy gives access to around 20 million ads from all over the world. You will explore the rivals' landing pages, links, and the settings of the target. The search functionality allows users to look for a specified keyword in the text of ads. The search results can be saved and stored in the account, which facilitates the process of analyzing and comparing them. It is possible to view both new advertisements and those launched some time ago to track the progress and adaptability of modern trends. The functionality enables users to sort the ads according to the following parameters:
date
the number of likes
reaction type (heart, angry face, etc.)
ad's duration
the number of reposts
AdSpy reveals the platform where an ad is run, comments, and the volume of engagement.
Google Analytics
Any media buyer should include this solution in their toolkit. The best thing about the project is that it is free for Google account owners. The worst thing is that it will fail to show any relevant information if a user disables cookies. Essentially, there are 200 or so metrics that track websites and can provide you with information about your target sites.
In this short overview, we will focus on the most important features of this product. The results from Facebook, Instagram, and TikTok are visible with the help of this tool. It becomes possible due to a short code attached to the URL of the website. The page tags are used to collect data about every unique visitor to the website.
For SEO specialists and marketing experts, Google Analytics is a gold mine of analytical data. It provides users with the following data:
traffic sources
the number of visitors to the website
bounce rates
the length of a website session
attribution models
conversion rates
customer behavior
The settings of the account allow users to sort the results, save and store groups of websites, as well as customize metrics. The Google Analytics tool can be integrated as a widget into other resources that marketers can use.
Google Analytics empowers people involved with the possibility to compile a detailed customer profile, monitor the performance of the website in real time, and get reports that can be saved and shared. With the help of this functionality, businesses can plan long-term strategies and allocate resources for their achievement. Therefore, even free solutions can be sufficient and powerful enough if you learn how to use them well.
Google Trends/Think with Google
The above-mentioned solution is not the only worthwhile project under the Google umbrella. Google Trends and Think with Google comprise the vast diversity of marketing strategies and trends and provide users with an analysis of the most modern and efficient ideas in the world of marketing. Users plunge into the ocean of articles, infographics, audio and video resources that are on the hype and utilize that knowledge to come up with something trendy and appealing.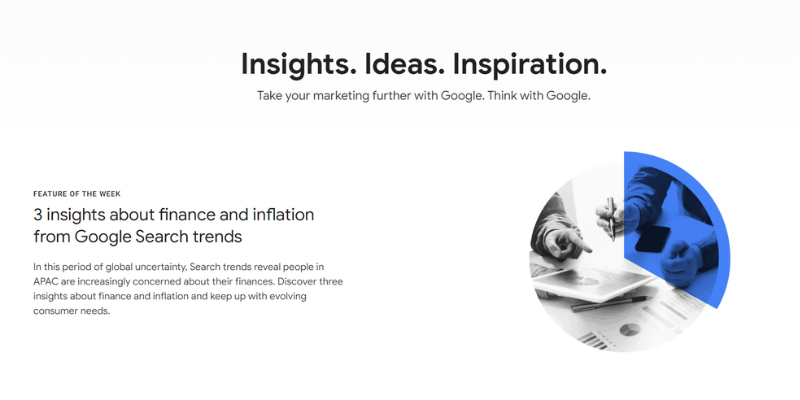 Call Tracking Platforms
Call tracking allows agencies to monitor their current advertising campaigns, their performance and productivity, and the budget spent. The online account demonstrates the analytical data regarding all the campaigns that are being run. It is convenient for an agency, as several campaigns are monitored in real time. Besides, call tracking provides users with transparent analytics, which allows them to quickly identify the most productive traffic channels and focus on them.
Dialics call tracking software meets the requirements of both sole media buyers and big agencies. The functionality includes the following useful features:
four types of virtual phone numbers
call recordings
easy setup and integration
call reporting
IVR and automated routing
adding several agents to one account
Dialics offers its users a free trial period without functionality restrictions. The project is constantly maintained by a team of enthusiastic developers, who are ready to help in case you have any questions or concerns.
Conclusion
The routine of any media buying agency is active and challenging. There is no universal approach to every new case. All the clients have their own expectations and look for a personalized solution. Luckily, there is a wide choice of programs and tools that can facilitate the daily routine of a media buyer. They differ in price and functionality, so the selection process should be taken seriously.
If you are interested in the possibilities of Dialics call tracking for your business, please request a demo. Our technical staff will be pleased to show you around.
Ready to improve your business with Dialics?