Disclaimer: To draw potential customers and high-quality leads, real estate agents should concentrate on a range of promotional techniques.
We continue talking about the real estate domain. In the previous article, we concentrated on the possibilities of a call tracking tool for a real estate agency. Now let's focus on the lead generation process. This process is a tricky one for realtors, as purchasing a new dwelling is a challenge. People tend to conduct extensive research on the location, facilities, as well as reviews on the agency and its market reputation. That's why it is not easy to enter the market, but once you have achieved some results, your contacts will be passed as proven ones.
How to generate leads for the real estate industry?
People become clients of a real estate agency in two ways: after googling a request and exploring the competitors; or through a recommendation from a reliable person. Therefore, agencies should use a variety of advertising methods to attract as many leads as possible and increase conversion rates.
1. Create an online presence.
As we live our online lives as actively (sometimes even more actively) as our real ones, it would be a mistake to avoid presenting yourself on the Internet. Create a good-looking and user-friendly website with useful free content, including, for example, tips on how to find the best apartment or the top 10 facilities in the desired city area. Make sure the design of your website corresponds to modern trends. Besides, it should be compatible with different devices and all browsers. Every CTA button needs to be clear and functional. Do not save on user interface development. This is especially important for younger audiences if you plan to target them. They make a decision about whether your website deserves attention in seconds.
The secret to effective SEO and organic traffic is a high-quality website coupled with a dynamic and educational blog.
2. Appear on social media.
Social media networking platforms have already become huge marketplaces and traffic channels for various types of mass market products and services. Setting up social media advertising campaigns is convenient since, with the right goal, your potential clients will find you. However, to create successful ads on Facebook, Instagram, and other social networks, you should know your customer profile in detail. This blog article has further details on how to set up Facebook advertisements.
Google my Business is a great way to spread the word about your real estate company. Similar to NextDoor, a well-liked social network for neighbors and nearby companies. While browsing the amenities in a given location, those who want to purchase housing there can come across your services.
3. Plunge into paid ads and banners.
Such engines as Google and Bing are the most popular drivers of traffic for any business. It seems to be a rather easy-to-set up type of advertisement. You just need to think of the keywords to include in the text, provide your contact information to facilitate the process of reaching you for your clients, and pay the money. Use an analytical solution, such as Google Analytics, Adobe Advertising Cloud, etc., to get a better idea of how many leads you receive from whatever banner and some other useful information about the calls.
4. Utilize street advertising.
Old school methods do work well for realtors. When people know the area they want to get a new flat in, they tend to come there, stroll around, and explore the facilities. Therefore, an eye-catching billboard or bandit sign will work for your agency. Printed fliers distributed in the street may also be effective. However, make sure this ad campaign does not cost you a fortune. Be creative and apply a sense of humor to attract passers-by.
5. Exploit call tracking.
A call tracking tool may considerably enhance all of the marketing efforts outlined above. Call tracking software, like Dialics, is capable of monitoring the budget that is spent on lead generation as well as gathering relevant information about the callers. You can track the performance of all your online and offline ad campaigns, see how much the cost per lead is, modify the ads, and switch off unproductive ads. What is more important, a call tracking platform enables you to collect data about your customers and the keywords that attract them. Therefore, call tracking software is a handy assistant in controlling and planning your marketing strategy. Look for some more details in our most recent post.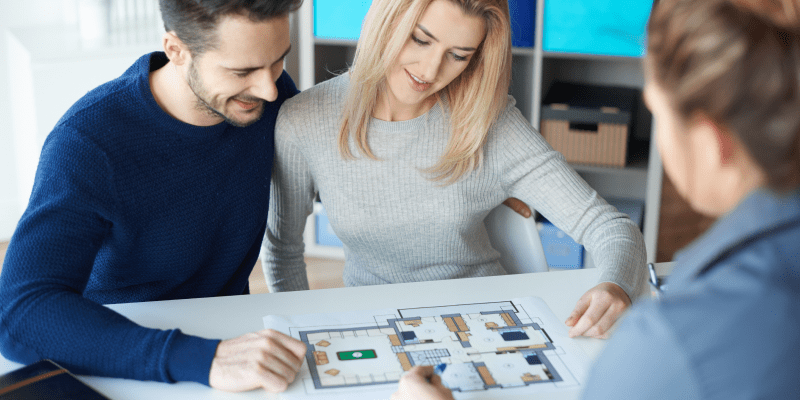 6. Participate in networking events.
Ad campaigns are effective, but creating and maintaining a brand image is no less important. Speak at meetings and events or just attend them as a visitor to broaden your business network. In the new reality, those events can be organized online, which makes the process even more convenient.
Guest posts on other agencies' blogs may also be counted as networking. Do not forget to include a link to your site there. Explore your competitors' sites and pages to learn how to differentiate your services from others'. You may concentrate not only on agencies but also on renting services, cleaning businesses, as well as property developers and other related types of services to make your business network broader and to launch word-of-mouth advertising. Organize a welcome party in your office for potential customers, or a tour of a new residential area to introduce it to the stakeholders.
7. Arrange free training sessions.
This is also a huge contribution to your brand awareness. Think about how your expertise may be useful to others. You may arrange some soft skills training for realtors, or share your experience in generating leads and converting deals. You can be an expert yourself or invite a guest speaker for the audience. In the situation of fierce competition, it is important to be known and familiar to others.
8. Launch a referral program.
Address your past satisfied clients and offer them an incentive for referring new customers to your agency. Another type of referral program is agent-to-agent referral. Send a high-quality lead to your peer realtor and receive a commission when the deal is closed. In return, you'll probably get clients directed your way. It works effectively if you deal only with some restricted areas in the city and do not want to spend hours commuting to show the property somewhere else.
9. Tackle expired listings.
Do not undervalue cold calls since they might be effective on occasion. Use your soft skills at 100%, as clients from the expired listings may feel frustrated and dissatisfied with the current situation. Be patient to find out if they wish to continue and what they expect from a closed deal. Besides, "For Sale by Owner" listings on Craigslist are also a source of phone numbers for cold calls. You may delicately explain why dealing with a realtor increases the chances of finding a desired apartment significantly and arrange a meeting in the office.
10. Become a consultant.
Real estate investors often look for a competent piece of advice concerning some particular residential property. You may become the person consulting investors. It will add to your brand name significantly. Interact with local investors on Quora, Reddit, or Biggerpockets forums and demonstrate your expertise. Position yourself among investors, mortgage brokers, and builders and steadily grow your reputation.
Conclusion
Lead generation in the sphere of real estate is never fast and easy. However, if you demonstrate patience and persistence, your efforts will pay off. As a newcomer in the real estate industry, you may choose several methods for creating your brand name awareness and reputation among competitors. If you opt for networking events and consultations, your success will depend greatly on your personal charisma and soft skills. Call monitoring software will be a wise investment if you decide to start with more targeted paid advertisements, landing pages, and website development because it will substantially streamline your marketing initiatives.
If you have any questions regarding the Dialics platform, feel free to request a demo or contact our technical support.
Ready to improve your business with Dialics?