Disclaimer: Call tracking software holds a number of significant benefits for various types of businesses striving to enhance their marketing efforts and increase sales.
Call tracking has been in the toolkit of marketers for quite some time already. It appeared the moment an entrepreneur decided to ask just another client, "How do you get to know about us?" Inbound call tracking software is designed to answer this question. Companies assign a phone number to each of their ad campaigns, and when people start calling, the analytical data about the source of a call is reflected in the call tracking account.
The first call tracking systems on the market were quite clunky, expensive, and had limited functionality. Today, there are hundreds of different solutions created to meet the requirements of a picky client. The functionality of call tracking software has greatly exceeded the ability to just tell which of the ads generated a call. Modern platforms comprise various phone types and different attribution models, as well as conversation intelligence capabilities, texting, and call recording. We've prepared a collection of the most frequently asked questions about the potential uses for call tracking in this article.
What is call tracking?
Call tracking software is the process of monitoring your current advertising campaigns, optimizing them, and keeping an eye on the marketing budget.
Any business needs a steady flow of interested leads and strong brand awareness. To achieve that, companies invest huge sums of money in marketing strategy. It usually includes compiling a detailed customer profile and placing several types of ads, each different in price, target audience, and expected results. Besides, a well-structured marketing funnel should be designed with a lead magnet, free useful content, loyalty offers, etc.
Any type of advertising, be it a Google ad, Facebook ad, landing page, billboard, TV or radio ad, as well as organic traffic, needs resources and efforts for proper performance. Call tracking is capable of evaluating the resources invested and correlating them to the outcomes obtained. With the call tracking technology at your disposal, you can instantly improve your campaigns and save money.
How does call tracking work?
Call tracking is the process of assigning a virtual phone number to each of your advertising campaigns. Literally, an advertiser or a marketer places a virtual phone number on each of the banners, ads, or printed fliers. As a result, the effectiveness of those ads can be traced by the number of leads generated, the cost, and other metrics such as UTM source, medium, paid search keyword, and Google ClickID.
More profound data is received with dynamic numbers. Static numbers are applied to each ad, while dynamic numbers are assigned to each separate inbound call. Therefore, marketers can analyze the customer route more precisely, learning which triggers drive more leads.
The convenience of call tracking lies in the fact that there is no guessing game in the process of setting up your marketing campaigns. All the data is transparent and real-time, providing experts with the possibility to make any relevant changes and follow the results further.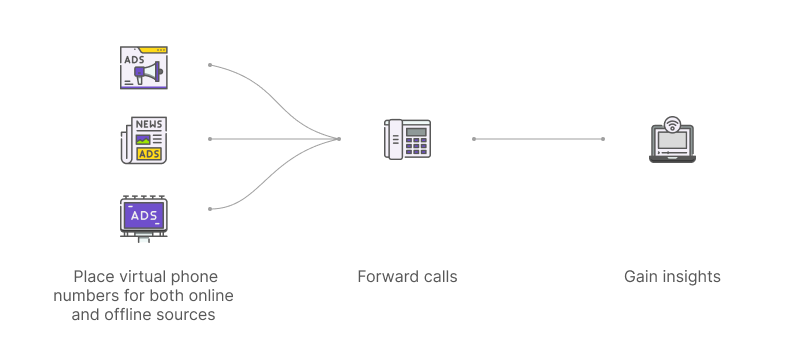 Explaining static and dynamic number insertion
The difference between the two types is crucial for understanding the possibilities of call tracking. We have touched upon this topic in detail already in this article. In a nutshell, static number insertion allows advertisers to assign a unique virtual phone number to each ad, banner, or billboard. This method of tracking calls is the simplest in its setting. However, it provides businesses with very limited data, including the length of a call, the campaign, and a call recording. Static insertion is attributed to source-level calls. It means you'll know which of your campaigns generated the most leads and where you squandered your money. Source-level attribution is good for probing the market. You will get insights about the most productive traffic channels and learn more about your target audience. If people choose to use your service because they live nearby, for instance, or because they watch TV.
Dynamic number insertion (DNI), which often entails a little more work, allows marketers to obtain more specific information on their marketing initiatives. DNI is applied with the help of a short JavaScript code snippet that is specified when you set up an advertising campaign. With this code, each lead will see a different phone number on the site. Therefore, each call will be shown with unique analytical data in the report, demonstrating the traffic source as well as the keywords that triggered customers' interest. DNI allows marketers to attribute inbound calls to keywords and unique visitors.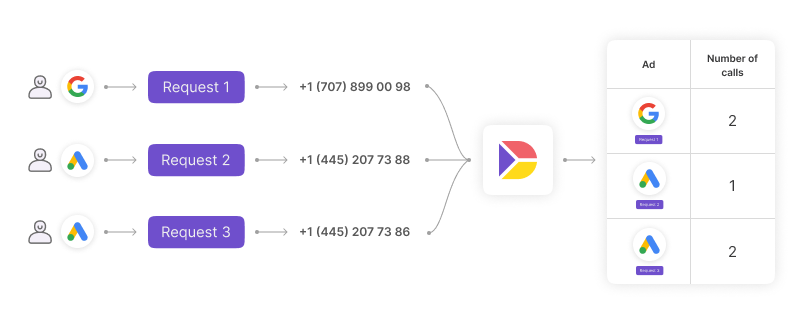 Why is it important to track inbound calls?
In a broad sense, call tracking is useful as it allows marketers to answer the following questions:
Which of the ads is the most productive in terms of generating leads?
Which of the advertisements has the lowest cost per lead?
Which are the most frequently used keywords in the requests of typical clients?
Who does the target audience comprise of?
How to optimize business processes to make them convenient and productive for both employees and clients?
Now, let's dig deeper into the possibilities of call monitoring for various businesses.
The importance of call attribution
In an ideal world, a customer sees an ad for a bicycle, decides to buy it, dials a number from the ad, and places an order. A company selling bicycles knows exactly where the customer has come from and continues paying for the ad. However, there is a dizzying array of comparable goods available now. Because of this, people tend to make less impulsive purchases and instead opt to carefully consider all the advantages and disadvantages before making a decision. Businesses are faced with a more challenging client experience and a lot of confusion when attempting to answer the question, "How did you hear about us?" Call tracking software uses a variety of call attribution algorithms to address these problems.
Keyword-level call attribution provides marketers with a detailed report regarding which keywords work best for them. Advertisers can test various keywords for the ads and monitor which of them performs better. Relevant keywords can shorten the customer journey and lead to faster conversions.
Visitor-level call attribution is set in the Dialics system with dynamic number insertion. It allows marketers to track each particular caller and never miss a lead. The system selects a virtual number from a pool of numbers, and every new visitor is shown a unique number. As a result, the analytical data is more detailed, providing experts with a treasure trove of insights. They can not only optimize their ads but also improve the product and contribute to the image of a typical customer. This attribution model involves careful customization of the analytical metrics.

The challenge of customer satisfaction
Turning back to the problem of choice that exists in the modern world, it can be viewed from two perspectives. On the one hand, choice allows us to be free in our vision, in the way we wish to receive service and what we expect from the product. On the other hand, it is sometimes impossible to choose among hundreds of similar options. If I know the make of a bicycle I need, how do I choose a shop? Price is one factor; customer service is the second. If you are happy with the process of purchasing a bicycle and bringing your money to the shop owner, you are likely to come back and recommend this shop to your friend. In this regard, this specific bicycle store has made every effort to increase client happiness.
Additionally, they can anticipate for a while to gain from organic traffic and word-of-mouth promotion and spend less on marketing and advertising. Call monitoring software includes certain useful features that might enhance the quantity of favorable reviews of your product on well-known review sites.

Call recording Call recording is allowed with notification of a caller in most countries. However, if you deal with sensitive information, like insurance policies, health issues, retail, and others, make sure you are aware of call recording regulations in your country. Listening attentively to calls from your leads can give you valuable insights about their requirements and expectations of your product or service. You may even decide to modify your product to impress customers. Besides, frequent keywords are fished out from those recordings. There is also the opportunity to assess your staff and arrange soft skills training for them if necessary. You can read more in this post.
Call routing Call routing is one more feature that brings convenience to both a marketer and a customer. With call routing, you can optimize inbound call settings in the call tracking account. For instance, you can specify several destinations for calls if the line is busy or an agent is unavailable. Therefore, you will increase the chance of a lead contacting you. As for the convenience of the employees, they will understand the peak hours and arrange their workload more effectively.
IVR Interactive voice response is commonly used by huge enterprises. It allows callers to get connected to a desired department or expert faster. However, a well-designed IVR menu is capable of facilitating the routine of a business of any size. For example, you may offer your callers an opportunity to schedule a meeting by selecting a relevant option on the phone. If a caller prefers to talk to a real agent, add this option to the IVR menu for the convenience of customers. You can also add the option of a call back. Not a single lead will be ignored, increasing your conversion rates and improving customer satisfaction.
Call reporting All the analytical data about each of the processed inbound calls is stored safely in the online call log. There, they can be easily sorted and grouped, allowing marketers to see converted leads, missed calls, or some challenging cases. Once you have your clients' contact information, it will be simple to send them deals or discounts and get them to come back. Additionally, it is practical for companies that require routine maintenance services like HVAC or auto repair.
What businesses need call tracking solutions?
Affiliates and performance marketers
Sole entrepreneurs are interested in large amounts of high-quality leads for small investments in order to sell them and gain a profit. Marketing affiliates work for themselves and avoid being at risk. With call tracking software, the risks are minimal. You see all the results of your work; the data is transparent and easily shared with partners. Besides, with such platforms as Dialics, it is possible to add buyers and vendors to the account while remaining a single manager and being able to track the whole analytics. Therefore, call tracking opens up opportunities for rapid growth and steady business networking.
Marketing agencies
Marketing agencies are dealing with several companies and businesses who are looking for a turnkey marketing plan that will perform well. Automating some of the repetitive chores will free up staff to work on more difficult problems. That's why regular analytical data reflecting the outcomes of the ongoing ad campaigns is a huge benefit. Setting IVR menus, call routing, and whisper messages will all contribute significantly to the success of marketing agencies' performance indicators and speak volumes in favor of their reputation.
Small and medium businesses
Companies of smaller size tend to save money and are unlikely to employ new staff. Call tracking software is able to perform part of the duties of a receptionist and a marketer. The tool is easy to use and analyze, so the learning curve is short. Simply register an online account, and you may instantly launch your first pay per call campaign. Besides, with similar software, companies are able to monitor their budget and spend money wisely.
What industries should use a call tracking solution?
Call tracking platforms are beneficial for any business that relies on inbound calls from clients and implies live interactions. The calls will be stored in the call log, and the analytics will demonstrate how well the marketing campaign performed. The industries are the following:
Insurance industry
Healthcare
Home services
Automotive industry
Travel and Hospitality business
Financial services
Lawyers
Real estate business
Education
There are a number of posts on our blog that describe the benefits of call tracking for various types of companies.
How can I optimize advertising with call tracking tools like Dialics?
Analyzing the data received about the inbound calls, marketers can decide to invest more in some of the ads, or, on the contrary, switch off an unproductive campaign. Keywords can be added, destinations set, restrictions on call processing applied, etc. The best part is that you do not have to wait to see the results of the modifications. You make adjustments in real time, gaining experience and developing into a competent marketing expert.
How much does call tracking software cost?
Depending on the features you want to use, the charges change. The range of prices depends on the number and kind of virtual phone numbers, the amount of minutes, and other characteristics. On this page you may find information regarding Dialics' pricing for international numbers. Contact us if you have any questions remaining.
FAQ
How to choose the best call tracking provider?
The decision is based on the needs of a certain project or business. You may wish to track inbound calls and get analytical data on them. Or you may prefer to use advanced functionality with texting, voice messages, etc. Thus, the price will depend on the available features and the amount of phone numbers and minutes purchased. Besides, if you wish to expand your business globally, international numbers and prices for them will also add to the charge.
For which marketing channels should call tracking be used?
Any traffic channel with live lead contact may be utilized for call tracking with success. Thus, you can assign a virtual phone number to a printed ad, TV or radio advertisement, printed flier, bandit sign, Google banner, landing page, "Call Now" ad on Facebook, and many others.
How to measure the effectiveness of call tracking service?
An effective call tracking tool is easy to customize and operate. The data is transparent and you receive it immediately in the account. If you are able to decrease the cost while increasing the number of leads and conversions, it means that your ad campaigns are productive and you are on the right track.
How to start using Dialics?
You register an account online an account online and start using the functionality. Dialics provides its users with a free trial period with no restrictions on functionality. Therefore, you can test the abilities of this platform before making a decision. If you still hesitate, request a demo. Our technical team will be glad to show you around.
Is it easy to move from another call tracking service to Dialics?
Yes, it is. If you decide to change your platform, you can either redirect your calls to our phone numbers or buy new virtual phone numbers offered by Dialics. Contact our team for more details.
Ready to improve your business with Dialics?