Disclaimer: Affiliate marketing is a possibility to earn extra income with minimum effort, and it has the potential to grow into a successful and profitable business.
The best way to earn money is by doing nothing and receiving a regular commission on your bank account. Seems impossible? However, affiliate marketing is an opportunity for anyone. According to the latest statistics, affiliate marketing is growing in popularity and does not show signs of losing its position. We have prepared a detailed guide on what exactly affiliate marketing is, how it works, and how to start your own affiliate business.
What is affiliate marketing?
Affiliate marketing is a modern method of marketing products and services that benefits both businesses and marketers. An affiliate marketer receives a link to the business they are going to promote and shares this link with colleagues, friends, their business network, and any other channels. When a person becomes a customer after following an affiliate link and makes a payment, affiliates get a commission. As a result, the more people you share the link with, the more likely you are to earn a commission. Conditions of affiliate marketing may vary. Some companies make a one-time payment; others pay for every renewal of the license, etc.
The affiliate marketing players
Affiliate marketing is a system that involves several parties. They are quite independent; however, it is good to know their roles to better understand the principle of affiliate marketing.
The merchant
It is a person who owns a product or service. It may be a sole entrepreneur, a start-up business, a huge enterprise, etc. The product may be anything from home appliances, to hand-made goods, to computer software, to home cleaning services, etc. The reasons behind a decision to offer an affiliate program can also be different. A company may wish to enter new markets but do not want to develop a complex marketing strategy. Then, a company may ask its current customers to spread the word about their product. In this situation, customers use the product and earn additional money, which is a win-win situation for everyone.
The affiliate
They may also be called publishers. Those are people who share the link and advertise the product or service among their channels. Affiliates promote a product and persuade the target audience of its benefits. Professional affiliates usually have a wide range of channels; they explore the market and know who to offer a particular product or service to. When a customer comes from an affiliate link, publishers receive a commission from the payment. An affiliate can also be just an ordinary person - a loyal customer of some software company, for instance. They register for an affiliate program and receive additional earnings or some payment discounts for bringing new customers to the company.
The consumer
The consumer is a person or company that decides to buy a product from an affiliate and closes the deal. As we mentioned before, consumers may be closely acquainted with affiliates, they can have mutual interests; or be colleagues. At the same time, affiliates may share the link on social media, YouTube, and other platforms; thus, consumers will be people who do not personally know an affiliate.
Please note: according to the Federal Trade Commission, consumers must know when they buy something from an affiliate. The deal should be transparent for all the participants. So, if you post videos on your YouTube channel, do not forget to indicate the name of the company whose products you are going to promote.
The network
Affiliate networks are intermediaries between merchants and affiliates. Affiliates go to those networks in search of a product or service they wish to advertise. Sometimes affiliates may be obliged to promote only the products taken from a network. Popular affiliate networks are ClickBank and Commission Junction (CJ).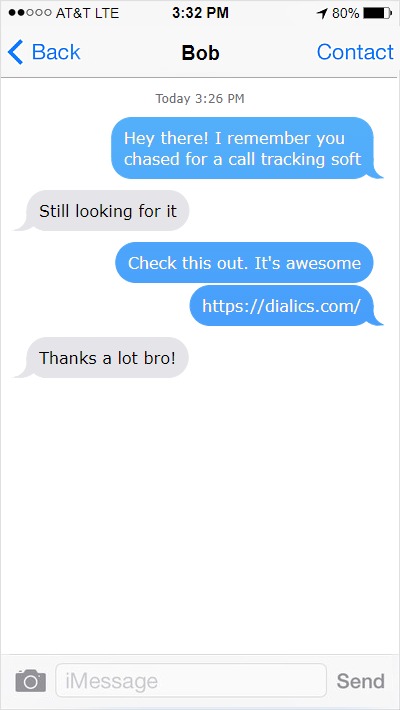 How does affiliate marketing work?
A company decides to gain new customers.
A merchant generates a link for a landing page and shares it with affiliates.
Affiliates share a link via blogs, social networking sites, or YouTube.
A customer gets interested and clicks on the link.
After reviewing the information about the product, the customer decides to buy it.
The money is sent to the company, and an affiliate receives a commission for the deal.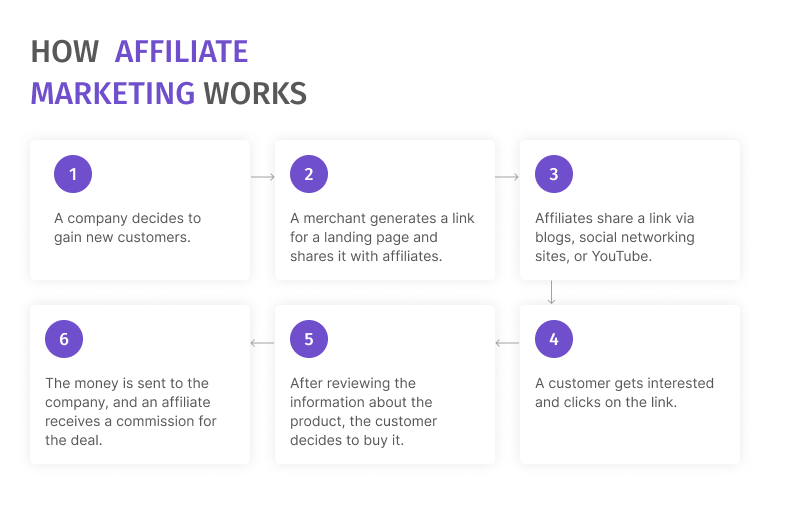 Why should you start affiliate marketing?
Low costs and low risks
To start an affiliate marketing business, you need a laptop and an internet connection. You do not have to calculate an investment or think about hiring a team of experts. You can start out on your own, gain experience, and gradually increase your income. Consequently, if the costs are low, the risks are also low. If you feel you don't like it, you can quit, losing only your time and a small amount of money. You will not earn thousands or even hundreds of dollars in the beginning, but if you spend time on that and grow as an expert, the sky's the limit for your earnings.
Being your own boss
You choose what to promote and how to promote it. You are a totally independent professional. You can decide when to scale your business, if you need additional employees, and where to work from. The amount of money you can earn is also not limited. Top affiliates claim to earn up to $20,000 per month. Besides, with time, it is possible to have passive income, and provided that you have created your personal brand name, merchants will try to contact you themselves.
Development prospects
A good thing is that by starting on your own, you will get to know all the intricacies of the business. You will know how to create quality content, how to make the audience believe you, and what the SEO details of your blog or website are. Therefore, you will grow into a savvy business person ready to develop into something bigger. You may hire people to launch advertising campaigns, invest in handy software, and develop into a complete media buying agency. Having spent much time as an affiliate, you will already have a renowned name, so your organic traffic will appear immediately.
Common types of affiliate marketing channels
Affiliates use different channels to promote their products or services. With time, it is easy for them to choose the most productive channel and to guess which of them will generate more leads for a particular product. However, for affiliate newcomers, it will be beneficial to investigate all available methods of promotion and understand how each one works.
Bloggers
Those people value quality content on their blogs as they do not want to lose organic traffic. They carefully choose a product and write a detailed review with affiliate links in it, transferring the traffic to the merchant's site.
Email lists
Sending emails with a CTA button to make a purchase or catch a bonus is still used by marketers to generate leads. Experienced affiliates have their own email lists of potential customers generated by other ad campaigns.
Influencers
They run their businesses on Instagram and Tik Tok. A considerable number of followers trust their opinions and recommendations. For some remuneration or under a barter agreement, influencers mention an affiliate link in their posts or stories and drive the audience to a promoted product.
Media websites
Amazon is the best example of those. Media websites are interested in high traffic. They offer thousands of products as well as an opportunity for affiliates to share their links. It is the place where customers, merchants, and affiliates come together and make deals.
YouTubers
Bloggers on YouTube make videos and can include the link to your product in the video description or make a complete video review of your product if the topic is related to the channel.
Paid search-focused microsites
Those are separate from the main website pages that target a separate market segment, clearly describe the product, and aim at increased conversions. Affiliate links may also perform well there.
How do I start affiliate marketing?
Step 1: Choose a niche.
Selecting a topic is important for gaining customers' trust. The choice of products on the market is staggering, so customers are picky. They trust bloggers they follow and those who are experts in the topic and can give a valuable piece of advice. If you sell something that is close to your interests, then your hobby will bring you money. If you are interested in painting and the arts, promote the things that you need for your hobby. If you are a stay-at-home mom, you can provide tools that facilitate the daily routine. Investment funds, DIY goods, gardening - choose something that you know about, as it will show your competence and make customers trust you. You can start a blog and develop not only as an affiliate but also as an influencer.
Software providers often propose their affiliate programs to current customers. You can be a Dialics call tracking user and earn extra money for your advertising campaigns with the help of an affiliate program.
Step 2: Pick up a channel.
We have mentioned common types of affiliate marketing channels above, so you need to select a couple of them or concentrate on a single one. Maintaining several channels is time-consuming and may be quite pricey. Apart from posting reviews, you will have to answer customers' queries, keep their interest warm, and create catchy content. All those activities require plenty of time. After some time, you may feel ready for another channel or that you can afford to delegate parts of tasks, but don't take on too much at first.
Step 3: Find affiliate programs.
Affiliate programs are divided into groups according to the commissions you can get and the number of potential customers. The best way to find them is simply to Google them.
High-volume, low commissions.

Those programs can be found on Amazon; they offer mass-market products to promote. Therefore, you will have a large audience, although you will not be paid much. However, it's good for a beginning.

High-volume, high commissions.

Affiliates promote expensive products and receive good money for that. Those programs should be left to experienced publishers, as the competition is high.

Low-volume, high commissions.

Programs for niche products. It is a challenge to find the target market, but the remuneration is worth it. Specialized software may be an example. Some companies offer a generous commission for every license extension.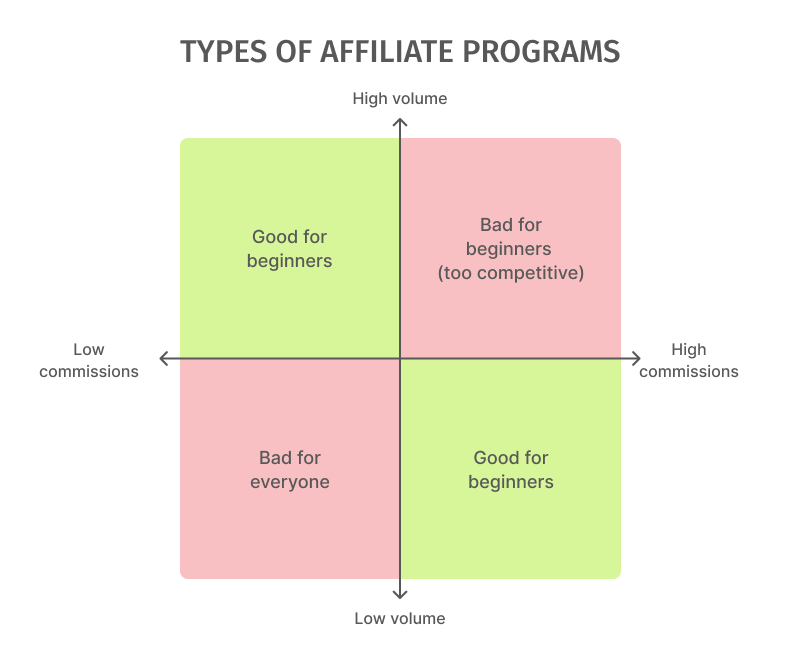 Source: https://ahrefs.com/blog/affiliate-marketing/
Step 4: Create amazing content.
Experts' points of view are the key to success. So become an expert for your audience. Be honest. Test a product before making a review. Explore the information about it and make a detailed analysis of the pros and cons. Improve your writing skills or attend a training course on speech skills if you record videos. It should be interesting to follow you; in this case, people will trust you.
Step 5: Generate traffic to your channel.
Unfortunately, your target market will not just appear on your blog or YouTube channel out of nowhere. You need to attract them and tell them you are there to assist them. And here is how you can do that:
Paid traffic
You pay for the ads, and customers come to your channels. Pay-per-click and pay-per-call models help generate traffic to your website. Leads will appear immediately after you launch the campaigns. However, you will need to pay for those campaigns. So, some investment should be made to get a result.
Pros: instant traffic
Cons: pricey
SEO
If you are unwilling to pay the money, consider search engine optimization for your website. This implies using keywords in the content to make Google's algorithms notice you and place your page in the top search results. The process is not fast and easy. You should work hard on your content, have a clear customer profile, and speak the same language as your audience.
Pros: no cost
Cons: time-consuming
Email lists
Gather your audience's emails by offering them the opportunity to subscribe to your channel in exchange for some valuable incentives. A list of the emails of the people interested in the topic is likely to bring you affiliate money. However, the newsletters should be sent regularly, and you should make sure your respondents read them. Customer surveys may help collect valuable information regarding whether your audience prefers this communication channel.
Pros: personalized approach
Cons: unpredictability
Step 6: Get backlinks to your content.
Use the links smartly in your content. Make sure you do not overspam the reader with too many links. Do not put all the links in one place; try to spread them around. The text should be both readable and visually appealing. Work on the image of your brand through expert content and authoritative opinions. Therefore, businesses will soon come to you and ask you to promote their products.
Conclusion
Affiliate marketing is able to make the fairy tale of passive income come true. However, the reality is that you will have to work hard before it happens. Affiliate programs provide current product users with the opportunity to earn small amounts of extra money, making them even more loyal to their favorite brand. But if taken seriously, affiliate marketing can turn into a complete and profitable business. The main things are to choose the right product, believe in this product, create meaningful content, be honest with your audience, and never give up.
We would appreciate it if you shared your feedback or experience with us in the comments. We will be happy to see you among our followers, so feel free to subscribe.
Ready to improve your business with Dialics?