The ability to gather and implement information from multiple sources opens up wide marketing possibilities for any business. First-, second-, and third-party marketing data provide valuable insights for managing business operations.
Data is gold in the modern world. Marketers plan their strategies and advertising campaigns based on the data they collect. The market for online advertising is growing each year, which means the appearance of new marketing tools and methods and more sophisticated approaches to finding customers and retaining them.
Marketing data is normally divided into first-, second-, and third-party data. In this article, we will focus on the differences between the three and how they can all be employed to create substantial outcomes.
What is First-Party Data?
First-party data comes straight from the target market. Therefore, marketers receive this data from the corporate CRM systems, as well as behavioral patterns of website visitors, subscriptions, blog readers, and so on.
First-party data is considered the most valuable and reliable. That is true because it is collected directly from the audience, so it is trustworthy. Besides, it comes with organic traffic, so there is no extra investment. Reaching first-party data should be a priority for any business that aims for commercial success. The more valuable information you know about the target market, the more successful you will be in offering them new products, selling updates, interacting with affiliates, developing marketing funnels, and so on.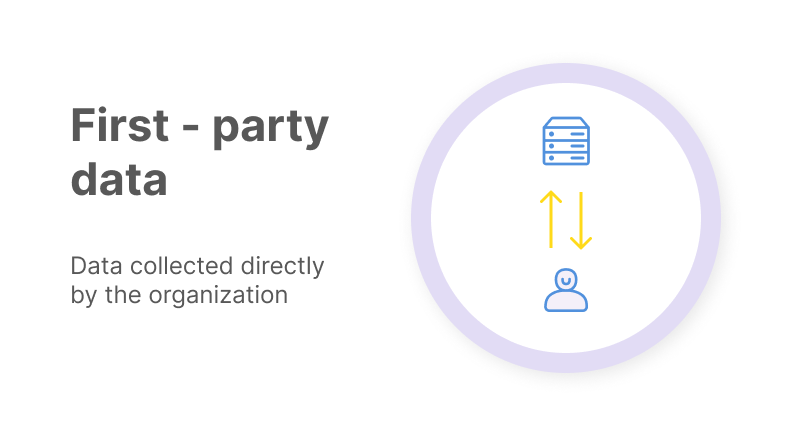 How to collect first-party data
Interaction with your target audience is the key to collecting data about them. The more channels you offer your clients, the better.
Adding a pixel to a website The most well-known are Facebook and Linkedin pixels. As a result, you will monitor the activity of the target market and be able to personalize your ads.
CRM system An internal CRM system is a must-have tool for any business dealing with customers. It will contain all the required information about the client base and provide an opportunity for easy sharing with colleagues.
DNI Dynamic number insertion enables marketers to track pay-per-call advertising campaigns. The DNI is similar to pixels, but it shows the results for the customers who decided to dial a number stated in the ad.
Call tracking platforms If your business implies phone interactions with the target audience, consider call tracking as the most effective tool. It works well for insurance businesses, car dealers, home services, and other domains.
Omnichannel contact centers People today prefer various communication channels. Let them choose among live chats, messengers, phone, or email communication. Make sure all the channels are synchronized, and you will get enough data for insights and increase customer satisfaction along the way.
How to use first-party data
The first-party data comes directly from your target customers. Therefore, it is reliable and most useful for any business. Besides, there are no privacy concerns, as only you and your customer are involved in the process of data collection. There are several ways to get the most out of the first-party data.
Customer behavior prediction Applying pixels and DNI systems enables marketers to track the customers' routes on the website, the landing pages, and even the keywords that were Googled. It is useful for analyzing the site and understanding if all the CTA buttons are visible and user-friendly. Customer behavior may show the possibilities for site optimization. Advertisers will see which banners are most productive in bringing leads and which should be dismissed in order to save budgets. Besides, if a person puts a product in the basket and forgets about it, you may remind them in a couple of days to finish the purchase.
Tailored content Content developers can develop more informative articles, design graphics, and shoot videos by analyzing customers' reactions to the information on the site and in the blog. Delivering valuable material to a potential market contributes significantly to organic traffic and client loyalty.
Catchy ads and marketing funnels Exploring customers' needs and adding more details to their profiles means better understanding their expectations. With a call tracking solution, for instance, you will know the location of your customers. You can use this information for arranging offline meetings for clients, sharing expertise, and promoting networking opportunities. Proper audience segmentation allows for appealing advertising campaigns and properly structured marketing funnels.
Neat budget allocation The first-party data shows customers' interest in the product or service. Therefore, it is possible to identify the most productive campaigns and stop those that are wasting money. Customers' routes clearly demonstrate the most effective marketing efforts and highlight ways for increasing ROI and conversion rates.
What is Second-Party Data?
Second-party data is somebody else's first-party data. In other words, somebody collected the data from their target audience, and you decided to buy it from them. You purchase the data from one source. Therefore, the second-party data is collected from behavior analyzers, subscriptions, customer surveys, and social media.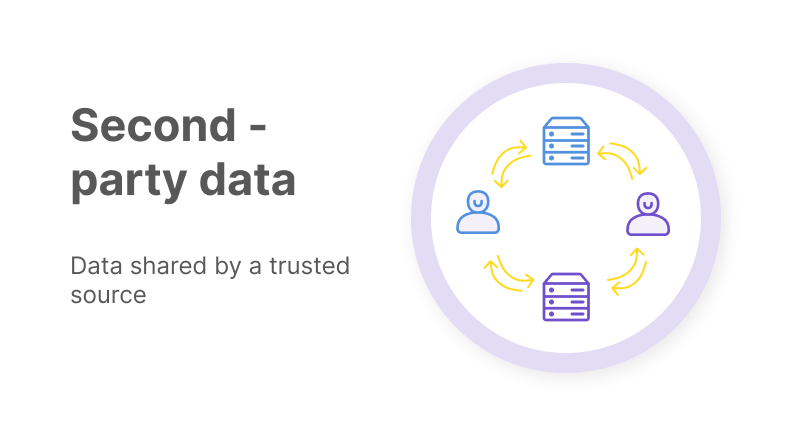 How to collect second-party data
A marketer should connect with a company with a potentially similar target market, negotiate the deal, and buy the data. A buyer and a seller have to agree on the conditions, price, access to the database, etc. Data sellers can be found on marketing data platforms such as Klaviyo, Totango, Segment, and others.
Successful deals contribute to cooperation between businesses and long-lasting relationships. An example may be the cooperation between airline companies and hotel booking services. Both businesses have mutual audiences, but they are not direct competitors. Thus, exchanging data regarding potential clients is beneficial for both parties.
How to use second-party data
The process of collecting the second-party data is easier and faster in comparison with the first-party data. You only need to pay some money for that. As long as you choose a reliable source to buy from, you can be sure of the quality of information and privacy issues, and you will definitely gain some positive results.
Scalability With additional data from a related business, you can increase the coverage of your campaigns and their performance. Therefore, you will reach more potential customers and get more conversions.
Growing audiences People who may wish to buy your products may not read your blog or stumble across your banners. If you use somebody else's data and show your product to new audiences, your followers are likely to come to you.
Networking Developing successful partnerships with other businesses that may offer you a complementary target market is always worth investing in.
What is Third-Party Data?
Third-party data is collected from several sources. It is aggregated on various platforms and websites. These aggregators pay publishers to host their data on the platform. It is divided into some datasets, such as demographic characteristics, behavioral patterns, hobbies and interests, etc. Any business owner can buy that information.
On the one hand, third-party data provides loads of information. On the other hand, it is gathered and sold by a program, which is why it can also be used by your competitors. The amount of data is staggering, but the quality may lag behind.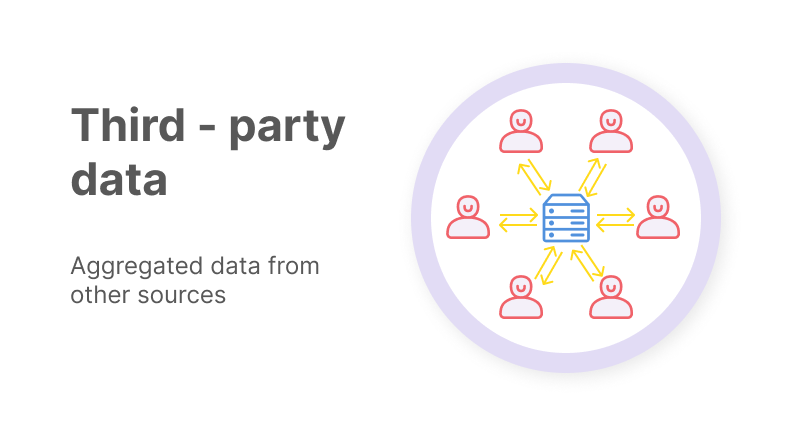 How to collect third-party data
Usually marketers find the third-party data on demand-side platforms or data marketplaces. OnAudience, Lotame, Eyeota, and others are among the most prominent third-party data suppliers.
Marketers should consider the following factors when selecting a credible data provider:
if the provider complies with data protection regulations such as GDPR or CCPA
if the provider runs any data quality tests to make sure you are not buying bots
if the required market segments are provided
if there is a possibility to create custom audiences
How to use third-party data
Third-party data, just like second-party data, can significantly widen your target market and help you find new customers. It is good to use it as a complementary source of marketing data and avoid making it the primary one. The main spheres of application for the third-party data are:
Expansion of the audience Data platforms offer hundreds of data segments. You can specifically search for DIY enthusiasts, vacationers, people who live in your state, and so on. Marketers can add new segments to the target market and see how well the lead generation process is going.
More ideas for detailed targeting While adding more customer profiles to the marketing funnel, you can set targeting more precisely. Third-party providers can provide you with insights regarding your audiences' preferences, hobbies, and demographics.
Scalability This point is similar to the one with second-party data. By adding new customers to the target market, you grow, develop more catchy advertising campaigns, and develop spin-off products.
Bonus: Zero-Party Data
The marketing world is developing at the speed of light, which is why it is difficult to catch up with the appearance of new terms. Zero-party data is a relatively new thing. It is the information that a user shares with the company voluntarily or in exchange for a discount or other bonus. Therefore, first-party data is collected by the marketer and more or less assumed, while zero-party data is given directly by the client, which means the highest level of loyalty and trust.
How do you get the most out of all three types of data?
A marketing strategy should be developed with clear objectives and goals. Any business should know exactly what it is intended to achieve and how to develop further. Besides, it is crucial to regularly monitor the results and optimize campaigns. Tools like call tracking, CRM systems, and marketing data platforms are able to provide loads of important information for enterprises. Therefore, take your time to carefully examine and successfully implement it.
If you are interested in the possibilities of the Dialics call tracking system, please contact our team and schedule a demo. We will be pleased to show you around.
Ready to improve your business with Dialics?