Call analytics shows the effectiveness of marketing campaigns with the number of leads and converted calls. It allows for data-driven decisions regarding marketing optimization.
Businesses are shifting rapidly towards VoIP lines. The convenience of setting up and maintaining a connection, low costs, and scalability options are some of the reasons for the popularity of online calling. It is still possible to sell a product over the phone, or at the very least to convert a caller into a loyal customer.
Therefore, call analytics software is gaining popularity among call-related companies. This technology allows marketers to make smart decisions based on reliable data about their advertising strategy, resulting in high conversion rates and satisfied customers.
In this blog post, we will focus on what call analytics is, how it works, how it may be used, and reveal the answers to the most common questions regarding call analytics.
What Is Call Analytics?
Call analytics is the process of measuring, collecting, analyzing, and reporting on inbound calls. Sales and marketing departments use the insights from voice call data to optimize advertising campaigns and get more high-quality leads. Call analytics provide information about the team's performance and applied marketing strategies. It is easily shared among the team members and examined for identifying the bottlenecks and gaps that seek urgent optimization.
How Does Call Analytics Work?
Call analytics implies assigning a virtual phone number to each advertising campaign, either online or offline. When leads start calling, the data regarding each call is reflected in the online account. Depending on the attribution model used, it includes the caller's location, the marketing source that prompted the call, and other metrics. The analytical data also contains the recording of the call, voicemail, and SMS messages.
Call analytics are analyzed by artificial intelligence and conversational intelligence. Calls can be transcribed, and the data will be reflected on dashboards available for all the team members. Analytics reports can be compiled and downloaded. The data is further transferred to integrated programs and CRM systems.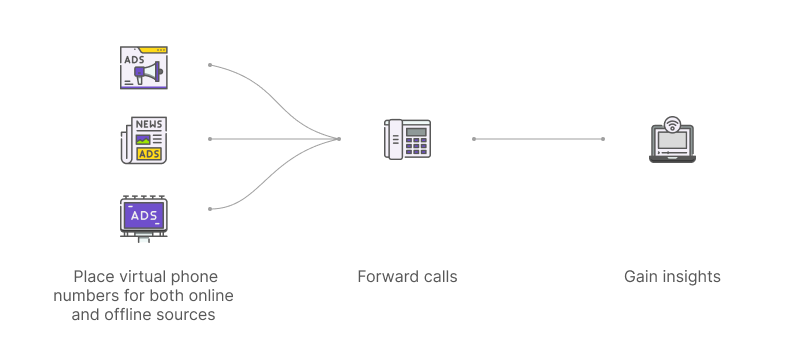 What Data Is Available with Call Analytics?
Depending on the software provider, the data gained may vary. Among the most common indicators are the following:
Demographical data: the information about the caller, their location, and gender.
Traffic source: which of the ads generated a call.
Call length: the number of minutes spent on the phone call.
Call recording: the whole conversation with an agent recorded.
Costs and payouts: the amount of money spent for the minutes, the payout to the affiliate if a call complies with certain conditions.
Conversion condition: e.g., the amount of minutes on the phone, a form filled out, shared personal email, an order placed, etc.
Call destination: the name of the agent handling the call, or the name of the agent, to whom the call was transferred.
First time or repeat call: whether the caller is a new client or has already interacted with a business.
Call status: e.g., successful conversion, an unsolved technical issue, etc.
If more sophisticated software is used, the list can be expanded. However, not all metrics are required for every organization; therefore, carefully formulate your goals before plunging into the selection process.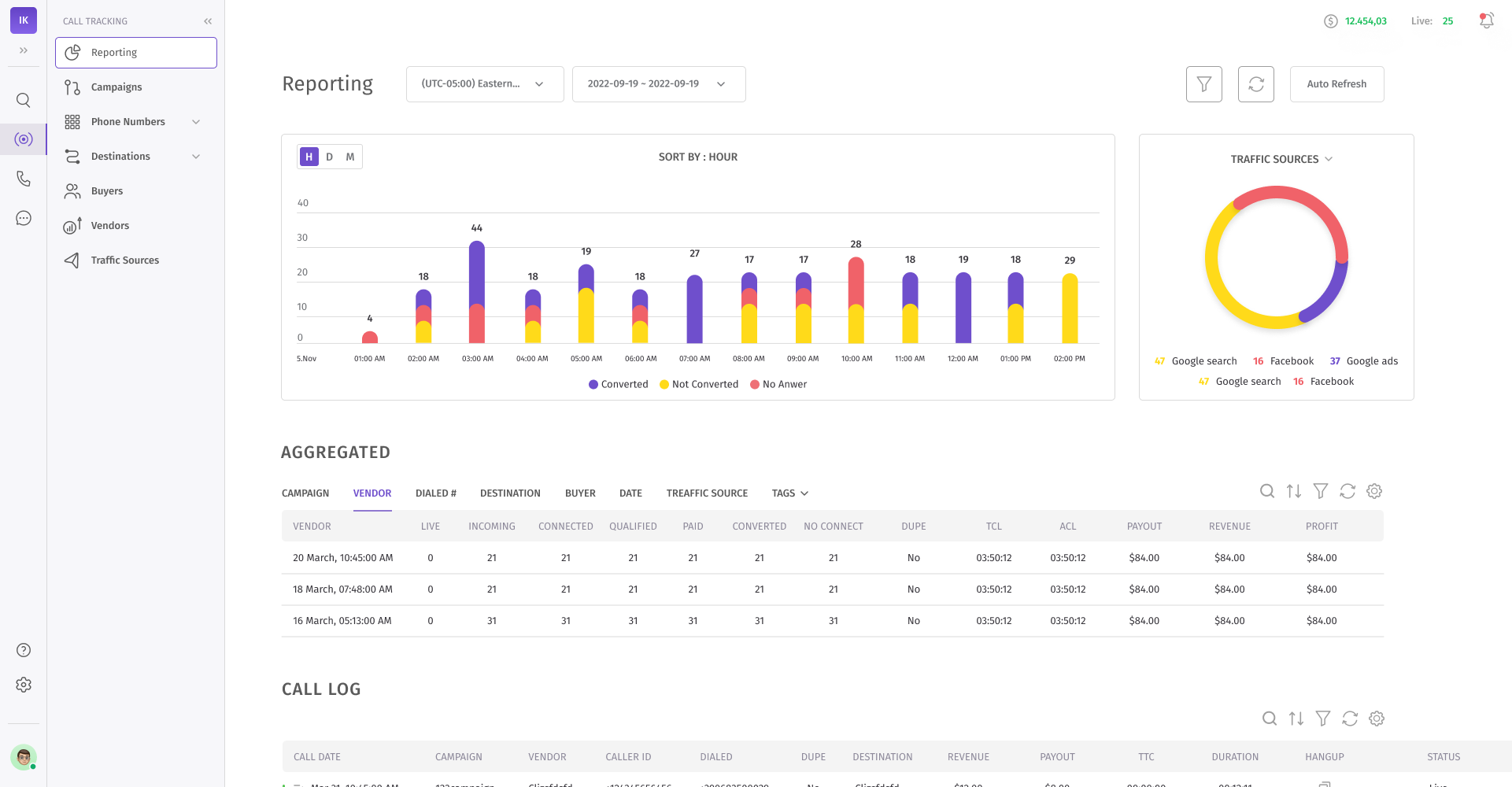 How Can I Use Call Analytics in Business?
The essence of call analytics is call tracking. However, the advantages of call analytics extend far beyond simply identifying the most profitable traffic channel.
Increase ROI First, what you will look for in phone call analytics is the source from which the call is coming. That is the most important feature of call tracking. Nobody wants to blow budgets on channels that do not work. Therefore, analyze the performance of the ads and switch off those that are not providing enough leads for your business. However, it is important to cooperate with sales departments. Sometimes the channel is not particularly effective in terms of lead volume, but the percentage of closed deals from that channel is staggering. Do not rush to conclusions and take every decision seriously.
Improve marketing strategy A thorough examination of the data related to live calls helps understand the target audience better. Various attribution models show typical customer behavior on the site. As a result, it is possible to carry out A/B testing and improve the website's usability. Consequently, marketers can offer clients some bonuses for various types of actions, such as filling out forms, subscribing to newsletters, and sharing blog posts. Some customers prefer to place an order immediately, while others need time to get acquainted with the product and get a few free offers. Segment the audience to get the best results.
Compile a detailed customer profile The demographic data in analytics offer marketers with information about their target audience. It is simple to learn who the typical consumer is, where they reside, how much money they make, what their preferred mode of communication is, and how to contact them. Taking these facts into consideration, multiple advertising campaigns can be designed, and even the product line can be diversified for different client groups. First-party data is the easiest to collect and the most informative.
Save resources Learning helpful information about the potential market allows for precise targeting. The more details you know about a typical customer, the easier it will be to create lookalike audiences and the cheaper the lead will be. Besides, analytics will identify the most productive traffic channels, enabling marketers to spend money wisely. Automated sales performance systems, evaluation tools like grading and scoring, and real-time alerts also save much time and resources.
Protect businesses from fraud The analytical data is clear and transparent. Advertisers know how much they spend and how much they have to pay affiliates. If you are an affiliate marketer selling leads to businesses, call analytics arm you with a handy reporting tool. You will know how much your commission is and how much you spend on each ad. Besides, call tracking providers allow for spam call blocking, which means you will not lose money on useless calls.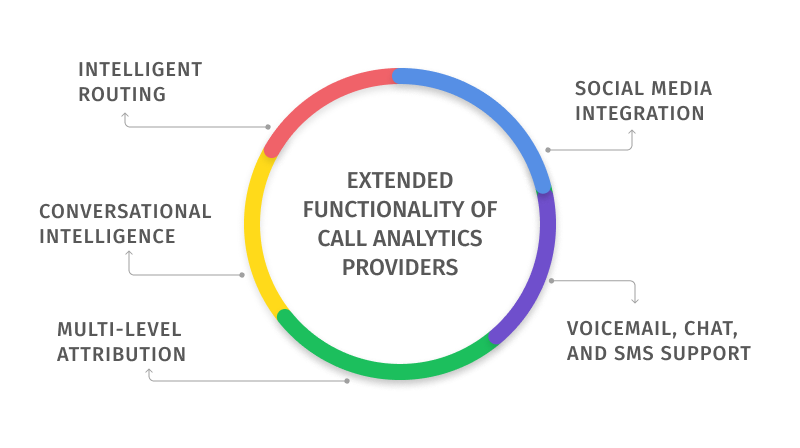 Extended Functionality of Call Analytics Providers
The software that offers call analytics to its users differs greatly. You may look for a simple tool to track your advertising channels, or you may seek a complete, turn-key solution, substituting a number of experts. Let's see what else you can get with live call analytics.
Intelligent routing
Call routing enables you to connect callers to the most competent experts in no time. It enhances customer satisfaction levels greatly. You can divide the agents according to the source of calls or the intent of callers. Therefore, agents will be better able to assist on the phone. IVR systems also serve the purposes of automation and speed. Callers have to answer a short question and choose an option before they will be connected to the required department.
Conversational intelligence
AI has firmly penetrated our lives. Live calls are no exception. The AI algorithms integrated into conversational intelligence read callers' intentions, the tone of their voices, their emotions, and their mood. Besides, conversational intelligence makes the process of fishing out keywords fast and productive. Machine-learning technology allows marketers to go even further and employ automated assistance for agents on the phone in the form of whisper messages.
Multi-level attribution
With the ability to set various kinds of attribution models, marketers can monitor customers' journeys in detail. It may not be enough to know just where the client has come from, while the data regarding which keywords were requested or which website pages were visited can be more informative. Using dynamic number insertion supplies insights for further campaign optimization.
Social media integration
Social media sites are great traffic sources, which is why it is highly important to track ad performance there. Besides, customers may prefer to communicate via social media, so that data should not be missed. Interactions on social media are a successful first connection with a company and a simple approach to raise awareness of your product or service.
Voicemail, chat, and SMS support
Call analytics is a must-have tool for call centers. The most productive call center today is an omnichannel contact center. Therefore, analytical data will contain not only the information gathered through inbound calls but also the whole interaction history via messengers, chats, email, etc. It will allow marketers to keep an eye on every lead and contribute greatly to customer satisfaction.
How to Choose the Best Call Analytics Provider
Before opting for a single solution, any business or individual entrepreneur should ask themselves the following questions:
Is the software PCI-compliant? Can you be certain that your transactions and payments are secure?
Is the solution HIPAA-, GDPR-, and CCPA-compliant? Do you care about data privacy enough?
What metrics are available for inbound calls?
Is conversation intelligence available?
How user-friendly is the interface?
Does the solution integrate with popular platforms such as Google Analytics, Google Ads, Meta, Salesforce, or any other of your preferences?
Conclusion
Call analytics are a treasure trove of information for marketers and advertisers. It opens up data regarding the target audience, where to find them, and how to get in touch with them. Besides, a deep examination of call analytics may provide hints about further product development and ideas for a successful marketing strategy. Therefore, neglecting the information received from live calls can tremendously hinder business growth.
Dialics offers the most essential tools for studying the results of advertising campaigns. It provides users with helpful information and allows for easy scalability. If you are interested in the possibilities of our call tracking system, please contact our team. They will shortly get in touch with you.
FAQ
What are the benefits of call analytics for marketing and sales?
Call analytics show the most productive traffic channel. It enables prudent investment in campaigns that create high-quality leads. Call analytics assist in developing a profile of a typical consumer, highlighting the keywords to which they typically respond, and providing insights for developing a smart and data-driven marketing strategy.
What features may supplement and boost call analytics software?
Smart routing for easy call transferring, conversational intelligence for assessing calls and gaining valuable information, dynamic number insertion for setting attribution models, and call recordings for a deep examination of a target customer.
Which industries benefit from call analytics software?
Industries that involve phone consultations or sales over the phone. Among them are the following: travel and hospitality, health care, home services, car repair, insurance, real estate, banking sphere, educational institutions, and others.
Ready to improve your business with Dialics?