Disclaimer: Call tracking software for travel agencies helps to increase conversions and productivity not just during peak season.
With the coronavirus pandemic stepping away, more and more tourists are heading towards various world destinations for a scenery change. It means severe competition among travel agencies is back again. Any travel agency, especially the ones that have survived the crisis, is striving for customers. At the same time, they wish to keep the existing customers inside the marketing funnel and tempt them with further holiday destinations.
In this article, we have prepared a list of tips on how travel agencies can increase their sales with the help of a call tracking system.
Plan marketing campaigns in advance
Most people, especially if you target families with children, prefer to book their holidays in advance, as this opens up opportunities to find the best accommodation for relevant prices as well as to catch cheap tickets. The process of choice starts right after Christmas, in January, when the gifts are delivered and the family reunion parties are over. It means that the best time to launch marketing campaigns is December, as you need to heat the audience, show them you exist, and make them remember you. You might have an objection here that there are a lot of people planning their trips a week before, but that is not a problem. Unless your hotels are filled to capacity, you are not going to turn off ad campaigns, so those tourists will eventually come to you as well.
Explore the market
Most people enjoy traveling. On the one hand, it is good news, as your potential clients are everywhere. On the other hand, you can not choose only one channel and only one type of advertising to attract your customers.
Inbound call tracking software enables you to assign each of your campaigns a virtual phone number. As soon as travelers begin calling, you will receive analytical data in your account, allowing you to determine which ads are most effective. Further, you can invest more in this campaign and get rid of less productive ones. There are several ways to show your product to people.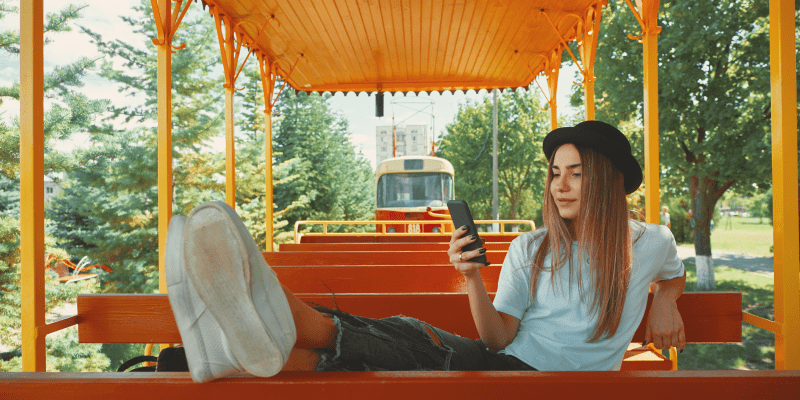 Social networks

Facebook, Instagram, and Twitter have already become huge marketplaces. People scroll through their news feeds, stumble across your ad, share it with friends, and decide to get in touch with you. Do not forget to enable the "Call Now" option to make the process simpler for your clients. Setting ad campaigns through the Ads Manager on Facebook might be quite challenging in the beginning, but it will definitely pay off, especially if you link the Facebook campaigns to the pay per call option on a call tracking platform. We have described the benefits of the pay per call campaigns for the travel industry in this post.

Website

Brush up your website if you want to get more conversions. There is nothing worse than slow loading or a poor mobile version of the site. It may turn a potential lead away from your agency forever. The user interface should be responsive and interactive. The CTA buttons should be visible and well-placed. Hire an SEO specialist to join the team, and you will receive a high ROI in the long term. Organic traffic is the most reliable source of traffic. Only an expert can assist you with that, as there are many subtleties connected with tuning the call tracking and maintaining the local SEO function well.

Offline advertising

There are still people who prefer real communication today. This is especially true if you are targeting senior travelers. They might come across your ad in a local newspaper, on the radio, or on their favorite TV show. This type of advertising is the most expensive. However, elderly people like talking on the phone, and if you provide excellent service, you are most likely to get a conversion.
Build brand awareness
Creating a reputation goes a long way. However, if you are planning to stay on the market for some time, it is a necessary thing to do. For you to be a reliable travel agency, it is important that your customers know about you. However, it is no less important that your competitors and potential sponsors know about you.
Take part in travel exhibitions and other networking events for the businesses in your industry. Introduce your company to people and make friends. Perhaps you will find a sponsor, a hotel chain owner, or an investor who will wish to collaborate with your business. New connections bring new opportunities for business, so be open to them.
Exploit full call tracking functionality
Apart from the pay per call option and analytical data, there are several other useful features that any call tracking provider can arm your travel agency with.
IVR and call routing

If you have a chain of hotels on different coasts and in different time zones, call routing will work best for you. You can connect callers to the desired destination in a few moments, minimizing the on-hold time. Besides, you can add the feature of a multilingual IVR. For smaller hotels and holiday inns, call routing might facilitate the job of a receptionist.

Whisper calls

Those are short messages for the agents answering the calls that the callers do not hear. They provide the information about the ad that generated the call, which helps agents quickly understand the needs and expectations of a caller.

Call-back option

In case all the agents are busy or the call was made outside of working hours, this feature is an opportunity to get back to every potential lead. The data about the calls and their statuses is kept safely in the call log.

Call recordings

Provided you tell your customers the call is recorded and they do not mind that, it is a nice way to teach your staff soft skills. Call recordings with real leads are ready-made case studies for them to practice. This will eventually lead to a higher customer satisfaction level.
Conclusion
Travel agencies supply customers with a source for positive emotions. Thus, it is important to make the first impression as pleasant as possible. Call tracking platforms may become a handy assistant in that process.
Dialics is ready to improve the sales of your travel agency. A free trial period enables users to study the functionality without restrictions and to make a thoughtful decision. Start your learning journey by registering online.
Ready to improve your business with Dialics?